What's on in Myddfai- January- February 2014
January 8, 2014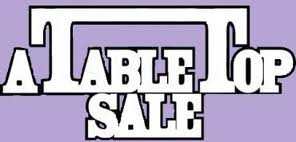 Table Top Sale February 15th
January 10, 2014
MYDDFAI NEWS January- February 2014
Firstly let us wish all our hard working volunteers a Very Happy New Year and thank them for their loyalty and dedication given over the past year and to let them know that they are very much appreciated.
What's On in Myddfai.
January 25th – Santes Dwynwen evening 7pm.
January 31st Myddfai Food & Culture trail Book Launch
On 2nd. Feb we are having a Countryside Alliance Pheasant Phest Lunch.  For information and Tickets please contact Rachel Evans 07825 337978.
On 15th. Feb we are holding a Table top/Car boot sale. £5 per table in or out.   book early.
Our winter opening hours until 1st. March are Tuesday  to  Sunday  11am-4pm.
The shop is still worth a visit for that unique and special gift. We have an extensive range of items including hand-made leather bags and purses, pottery, wooden boards aprons and bags, jewellery, etched glassware, silk and wool art pictures, natural soaps, Welsh Tweed accessories and blankets, slate items and lots more. We also have a wide range of cards for any occasion.
Café is open for light lunches afternoon teas and snacks- homemade cakes and delicious soups.
Our exquisite hall can be hired and is fully equipped for any function including screen, audio equipment and free WiFi. The kitchen can also be hired and would include cutlery, crockery and glassware.
We also have a separate meeting room which too can be hired.
Congratulations to Tom & Lara Bean, our resident Herbalist, on the birth of their daughter in early Dec, and to Catrin & Mathew James on the birth of their son on 29th December.
Classes in Myddfai Hall
Thai Boxing-   Monday and Thursday evenings  6.30pm – 8.30pm
Yoga-              Tuesday evenings 7-8.30pm
Zumba-          Wednesday mornings 10am-11am
Pilates-           Thursday mornings 10-11am
Flower Arranging -Tuesdays 2-4pm starting on 11th Feb (tbc)
Myddfai Bible Class- every fortnight on a Wednesday evening 7-9pm. Dates are from 15th January onwards. Taken by Rev. Watcyn James.  A very warm welcome to anyone who wishes to join our friendly group.
For bookings and further details please contact les Griffith on les@www.myddfai.org. Mobile 07879 119223 or Hall no. 01550 720449.
Check our website www.myddfai.org to keep up to date with news & events in Myddfai.
Please like Myddfai Community Hall on Facebook and follow us on Twitter.